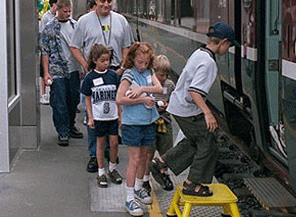 The Schools on Trains program is for school or community groups with students in grades K-12 and their designated chaperones. For only $17 per person (round-trip or one-way), school groups can ride Amtrak Cascades anywhere between Bellingham and Portland, or between Portland and Eugene. For trips covering two zones, from Washington State to cities south of Portland or from cities south of Portland into Washington State, it's only $34 person (round-trip or one-way).
The Amtrak Cascades Schools on Trains fare is for school/youth groups with a minimum of 20 and a maximum of 72 people. Groups larger than 72 may still participate, however, only 72 people will qualify for the special fare. Passengers over the 72-person limit will be booked on separate reservations at the regular available fare. A minimum of one designated chaperone is required for every six students aboard the train. Children under 5 years old must be accompanied by an adult (not listed as a chaperone). Schools on Trains reservations can only be made for travel on Mondays, Tuesdays, Wednesdays, or Thursdays. View the schedule for the Schools on Trains program. Due to the increased interest in the Amtrak Cascades Schools on Trains program, school groups will be limited to participating in the program twice each year. Only one group will be scheduled on the train at a time.
MAKING RESERVATIONS
Advance reservations 30 days proir to departure are required. Filling out the reservation request form (pdf) is the first step in reserving your trip. One form is required for each field trip. Please note: submitting a request does not automatically guarantee a reservation.
Please observe the following blackout dates: all Fridays, Saturdays and Sundays.
A reservation request must be submitted at least 30 days prior to requested travel date. Submit your reservation request form (pdf) to Amtrak via email at Amtrak-SchoolsonTrains@Amtrak.com or Fax to 1-800-872-3298.
Amtrak will contact you within 5 business days to confirm your reservation. Please note that you do not have a reservation until you receive a confirmation from Amtrak.
Once you receive your confirmation notification, you may purchase tickets. Tickets must be presented on your day of travel and are non-refundable, even if the total number of passengers traveling in your group is less than what you planned for. Please note that once you you have received your confirmation letter, no changes are permitted. Please do not lose your tickets. Stolen or misplaced tickets will incur a non-refundable $75 replacement fee.
For safety and security reasons, Amtrak requires the first and last names of all adults and students/children traveling with the group. After you have received your reservation number, please submit your Passenger List to Amtrak via email at Amtrak-SchoolsonTrains@Amtrak.com or Fax to 1-800-872-3298. The Passenger List must be submitted to Amtrak before purchasing your tickets. A Passenger List is available to download here. (pdf)
TICKETS/PAYMENT
The cost of Schools on Trains tickets is $17 per person each round-trip or one-way, between Eugene and Portland, Oregon; or between Portland, Oregon, and Bellingham, Washington. Trips that cover two zones will be charged $34 per person. Two zones include trips that begin south of Portland and cross the border into Washington State, or trips that begin in Washington State and end south of Portland. Round-trip fares are for same-day travel only.
Tickets may be purchased with a credit card, by phone Monday-Friday 6 a.m. to 4 p.m. PST at1-877-872-2321, or at a staffed Amtrak station. You may also mail a Business Check as payment to Amtrak Group Sales, 7920 Lindbergh Drive, Riverside, CA. Amtrak will accept a single (one) credit card, check, or money order for payment. (Purchase orders will not be accepted.) Please note that once your reservation request has been submitted to Amtrak, no changes in dates, schedules, or number of passengers is allowed. No refunds are available after tickets have been issued. If your tickets are lost or stolen, contact Amtrak immediately at 1-800-872-1477.
Reservations must be made 30 days in advance. Payment for tickets must be received at least 14 days prior to travel date. If payment is not received at least 14 days prior to travel date, your reservation will automatically be cancelled. Once you have received your confirmation letter, no changes can be made. Mailed tickets will be sent via Federal Express (for an additional $15 fee). You may also purchase tickets at your nearest staffed Amtrak station. You will not be allowed on the train without your ticket. Contact Amtrak immediately if you have not received your tickets one week prior to the trip.
Additional participants may be added at regularly published Amtrak fares by making separate reservations. Due to capacity limits in each coach car, we cannot guarantee seating will be in the same car.
CHAPERONES
There must be at least one adult chaperone for every six children. The number of adults cannot exceed the number of students. Designated chaperones are adults specifically responsible and accountable for students participating in the program. Any adult traveling in connection with the group who is responsible for an infant or preschool child will not be considered a designated chaperone. Chaperones are responsible for following all Group Leader and Chaperone Guidelines. (pdf)
Any changes made to the original Passenger List must comply with the student-to-chaperone ratio. If you need to make a substitution to the list, you must notify Amtrak of the change prior to departure. If the change occurs the morning of the travel date, notify Amtrak and inform the train Conductor as well.
ACTIVITIES AND TRANSPORTATION
The Amtrak Cascades Schools on Trains program provides passenger rail service only. School groups are responsible for making their own arrangements for activities and transportation in their destination cities. For activities (e.g., Seattle Aquarium, State Capitol, Washington State Historical Museum, etc.) and transportation service options in your destination city, please visit our Stations page.